The climate debate has probably not been as topic as now. UN Climate Action Summit in New York in September and upcoming COP25 in December are all driving the debate and increasing the awareness. Today, buildings and constructions are responsible for 39% of all carbon emissions in the world, which World Green Building Council ("WGBC") highlighted during World Green Building Week. WGBC's vision is to achieve 100% net zero emissions buildings by 2050. As stated more than 10 years ago by WWF and GlobalFOCUS, if we with Parans type of technology replaced 10% of the electric lights in every building in Europe, China and US, we could reduce CO2 emissions by 220 000 000 ton every year. We have been ready for many years now to reduce CO2 emission, how about you?
By 2050 it is estimated that 2/3 of the world's population will live in urban areas. This means a densification of the cites causing an increase in the carbon emissions occurring right now. As research from the Intergovernmental Panel on Climate Change (IPCC) shows, achieving drastic cuts in all carbon emissions over the next decade is critical to keeping global temperature rise to 1.5°C.
WorldGBC's report "Bringing embodied carbon upfront", released during World Green Building Week, is calling for coordinated actions from across the sector to dramatically change how buildings are designed, built, used and deconstructed. The climate change is not only for governments, it is for us all, companies, NGOs, architects, designers, manufacturers, to act to limit the carbon footprint and by 2050 achieve 100% net zero emissions. We need to work together for innovations, awareness, how we calculate, track and report embodied carbon and how we legislate. Initiatives broken down on national levels such as UK Green Building Councils' consultation seeking feedback on energy performance targets for offices launched to target net zero. Tools such as the open source tool "Embodied Carbon in Construction Calculator" ("EC3") by Carbon Leadership Forum in partnership with more than 30 industry leaders such as Skanska Group and Microsoft, makes it possible to easily evaluate carbon emissions of building materials. Buildings such as Powerhouse Brattørkaia energy-positive office building, could be a role model.
We need to utilize energy sources as the sun, as much as possible. Using solar panels for energy of course, but also designing buildings where using daylight and pure sunlight for illuminating the indoor environment in best possible way. Using innovative products and solutions as a part of decreasing our carbon footprint. More than 10 years ago WWF and GlobalFOCUS awarded Parans with the Climate Solver prize, as one of Sweden's 12 most important climate innovators. The video made by them at the same time highlights the fact if we with Parans type of technology replaced 10% of the electric lights in every building in Europe, China and US, we could reduce CO2 emissions by 220 000 000 ton every year.
We have started talking and taken actions, but we need to continue working together to limit global warming to 1,5°C. Are you in?
SUNLIGHT DEEP INTO BUILDINGS AND FAR AWAY FROM WINDOWS
With Parans' solution you are able to create sunlight filled spaces in every building. Thin, flexible fiber optic cables lead the sunlight far from windows and deep into the building where the sunlight from windows cannot reach. As common as it is to have windows along the facade and that way lead the natural light inside, as common it could be to lead sunlight via a Parans system deep into the building – to every room, on every floor.
Want to know more about the value of the Parans system? Download our Light Guide.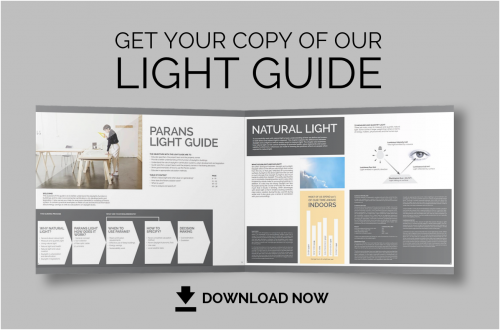 Photo on this side: The New York Public Library on Unsplash modified with text by Parans